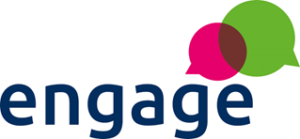 Thank you for the warm welcome you have provided to Karolyn and me as we step into the Lead Minister role here at Kingsway. I am honored to be your servant leader. We are excited to join you in the Mission that God has given to us- "Share the HOPE of JESUS with others, one person at a time."
I am spending the first 30-40 days getting to know the Church family. I am doing the best I can at learning names of each of you on Sunday mornings, but I know that I have not met each of you yet. In an effort to make that manageable, Karolyn and I will be hosting a number of gatherings to get better acquainted. I am going to call these small gatherings of 15-20 people "engage" gatherings.
So much of Jesus' ministry with people happened around a table in people's homes or on a hillside. In these very comfortable moments relationships were built, questions were posed, insight was gained, mission became clear, and God transformed lives. So let's try Jesus' model of getting acquainted!
These events will be held in the Fellowship Hall, with the exception of Wed, June 26th which will be at Tom & Norma Hilt's:
Sunday @ 8:30am

(Bagels)

Sunday @ 11:30am

(Pizza)

Wednesday @ 7:00pm

(Dessert)
June 16th June 16th June 19th
June 23rd June 23rd June 26th (Hilt's and no childcare)
June 30th (19501 Camden Ave)
I would love to have each of you select the time that would work best for you. You can reserve your spot by calling Michele at the church office (402-333-2231) or emailing her at office @kingswayomaha.com to let her know which date and time you will attend, number attending and ages of children needing childcare. No childcare will be provided on Wed, June 26th.
Please review the following questions to help prepare for our time together:
·

How did you first connect with KCC?
·

If our Church were a hotel, a department store, or a local business, which one would it
be? Why?
·

What needs outside of the church tend to break your heart?
·

What is something new you see God is wanting to do through our Church?