VICTORIOUS- New Sermon Series on Revelation
What if you had a road map and "necessary items" list for everything that you will encounter in the year(s) ahead. What if extreme difficulty was ahead for your family? What if the deep convictions of your faith were about to be attacked, mocked, and punished by your community and government? What if global crisis is going to create personal peril? What if natural disasters were going to hit you and your family? What if the immorality, arrogance, and evil of the world were finally going to face judgement from Almighty God? Wouldn't a God-given guide be helpful?
For the next few months, we will be learning from God's roadmap for you to experience VIVTORY in the chaos you are now facing and the upheaval that is around the corner before Jesus returns to earth. Prepare yourself to receive the Revelation of Jesus Christ for you to be an overcomer in the things that must soon take place!
We will begin our journey with an examination by God of the state of His Church. As the day of Jesus' return draws near, God gives a message to His people and shows them critical steps to take to be an overcomer in the difficult days ahead. We will face two questions in the early study of Revelation. The first question is "What happens if the Church gets off track?" The second question is critically important, "What must the people of God do to be a faithful witness to Christ when we face a difficult future?" If we get this right, the overcomers will be VICTORIOUS!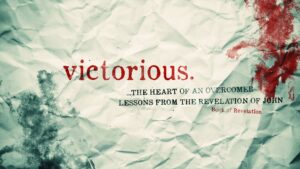 All past sermons are on the SERMONS link above or
the

Kingsway Facebook page.
You can access them on Facebook here!