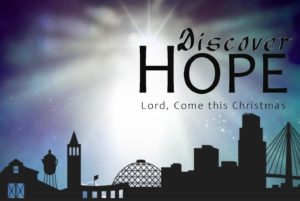 For the month of December
"Lord, Come This Christmas"
Christmas looks different in every culture and home. Though the story of Christmas gets squeezed out of the public arena, the need for Christmas is all around us. This series will look at the book of Philippians and how Jesus Christ's life impacted a commercial city in Macedonia. This city discovered HOPE with the message of Christmas. Today, our cities, homes, businesses and jails are waiting for Christ to be born in them. The message of Christmas can transform our city with the goodness and grace of Jesus.
Hope Finds You Right Where You Are
Matthew 2:1-12; Philippians 2:5-11; Luke 2:1-7
Jesus' humble birth and sacrificial life is the message of God's love for all of the world. Our hearts were created to bow down and worship Jesus. We will look at these three main points:
-Worship starts with a startled surprise. -Shepherds and Wise Men go to find the baby Jesus. What they saw filled them with awe.
-Jesus is the "Lamb of God who takes away sin."