Christmas Family Fun Night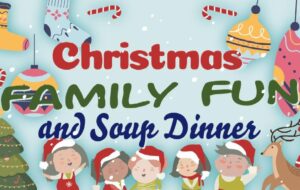 For all ages!!
Sunday, December 18th from 5-8PM
Mark your calendar to join us for a night of fun, food, fellowship, music, a game show and a silent auction.
Soup Dinner & Contest – Chicken Noodle, Chili, Meatless, & Cream Based categories
Christmas Game Show – Play as a family or join your friends!
Silent Auction – Proceeds benefit the Kids Program and Youth Trips
Caroling with the Kids – In the auditorium, you don't need your gloves—wink, wink!
Photo Booth for Holiday family photos
Invite your friends and family. Sign up at the info center.