What's Happening at Kingsway
Check out the upcoming events below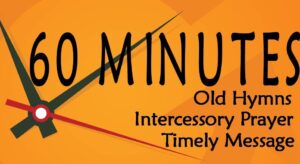 KCC Auditiorium
NOTE DATE CHANGE FOR DECEMBER
Next 60 Minutes is December 16th.
Join others as we sing old hymns, pray for each other, our country and the persecuted church. Hear a message from David Haynes.
Everyone is welcome!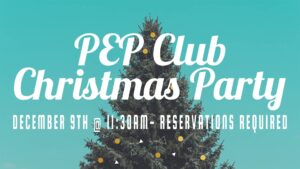 NOTE DATE CHANGE FOR DECEMBER
Everyone 50+, sign up to join us at the PEP Club Christmas party. The meal will be catered from Jericho's. The cost is $18 per person. Reservations are required. Bring a White Elephant gift to exchange (white elephant means something around your house you don't want anymore).
We hope to see you there!!
King's Daughters Christmas Party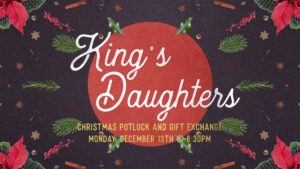 Ladies! Grab a friend and come ready for fun! Christmas gift exchange items should be $10-$15 original value. Please bring food to share for the potluck and your appetite!"
Sign up at the info center if you plan to come!!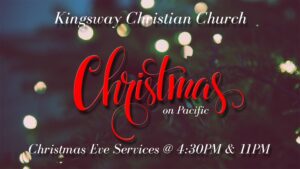 Join us for our Christmas Eve Candlelight Service at either 4:30 or 11PM.
Listen to Mary's story of hope that will settle your heart. A story of the child born to save. A story worth telling to your family.
Kids bags will be provided for kids 5th Grade and under.