What's Happening at Kingsway
Check out the upcoming events below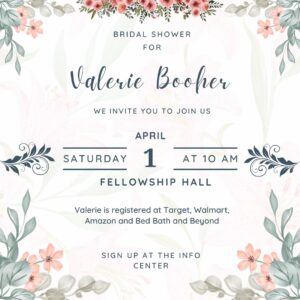 Bridal Shower for Valerie Booher
Saturday, April 1st at 10AM
Join us to celebrate the upcoming wedding of Valerie Booher, daughter of Trent and Kathy Booher. We will have a brunch at 10AM to celebrate Valerie and Kingdon. She is registered at Target, Walmart, Amazon and Bed, Bath and Beyond. If you can't attend and want to get something for Valerie, you may bring your gift to the church anytime before April 1st and we will make sure Valerie gets it.
Please sign up at the Info Center if you are able to attend.
Your invitation to the celebration of a lifetime …
We invite you to join us for our Easter service on
Sunday, April 9th at 9:30 or 11AM
Times are tough and life can be challenging. You may feel helpless, alone, sad, lost, hopeless. But we have good news!
The hope that you seek, abandoned a cross and a grave,
just to find you.
Choose HOPE
Hope has been handed to you by nail-scarred hands.
Pancake breakfast starting at 8AM in Fellowship Hall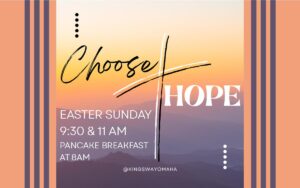 KCC Auditorium
Next 60 Minutes is Thursday, April 13th
Join others as we take time to sing our favorite hymns, pray for each other, our country, and the persecuted church. Listen to a message from David Haynes, as well as enjoy special music from some of our favorites.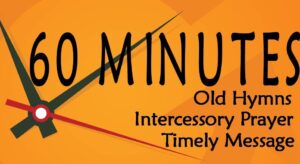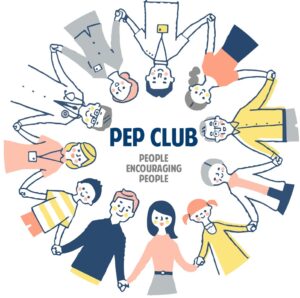 Those 50+, join us for fun, food and fellowship at PEP Club on the third Thursday of every month. Fellowship begins at 11:30 and the meal begins at 12. There is entertainment provided each meeting, and a chance to celebrate birthdays and anniversaries.
Bring a friend and a side dish to share.
April's hosts are Bobbie Miller and Lois Adkins.
We will be having a baked potato bar!
Our speaker is a guest from the Dreamweaver Foundation.
Sign up at the Info Center, or call the church office at 402.333.2231