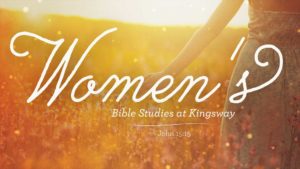 Women's ONLINE Bible Study
Due to the current Covid-19 pandemic, we are

"Going Viral for Jesus"
This consists of 3 action steps:
1. Time in God's Word with a daily Reading Plan
2) Praying with a Partner and
3) Reaching Out to Others during this time of increased anxiety and isolation.
#1 The Reading Plan

.

Some of you may have already begun the readings in John in the YouVersion Bible App last week. The devotions are very good and reading the Gospel of John together is amazing. Last week's devotionals are very short so you can easily catch up. There are 40 Days of Readings so it's important to begin soon.
#2 is based upon Philippians 4:6-7: "Don't worry about anything; instead, pray about everything. Tell God what you need, and thank Him for all He has done. Then you will experience God's peace. . ."
Simply stated: our starting point is always Prayer!
Ladies, no matter what the confusion of this world that interrupts our lives, prayer is a GIFT Jesus has opened to us to help us deal with what we (and our friends or families) face. If you have a prayer partner, what a blessing for you! If you would like to be joined with someone, please respond with a 'Yes' to Shirley at sshouse40@hotmail.com.
She will make sure that you have a prayer partner and you will both be notified through email.The intent is that we be connected and not isolated in this current state of uncertainty regarding health and other concerns.
Prayer not only connects, but unites us to a power greater than ourselves, greater than what is going on in the world around us. How often you will pray together will be defined by you and your partner. You can call and pray out loud together, share requests via email or texting, or however it works best for the two of you.
#3 is that of intentionally Reaching Out to others. To whom and how you reach out during this time will be according to the promptings of the Holy Spirit. Please be intentional and ask God to keep on showing you what special acts of kindness you can extend to others, either inside or outside our church family.
You may work individually or with your prayer partner, however you feel led. Some ideas might include sending cards, e-cards, texts or phone calls, etc.
Proverbs 11:25 tells us that: "The one who blesses others is abundantly blessed; those who help others are helped." Our community will notice your special radiance about you because the JOY of JESUS is within you! It will be exciting to see the fruit that God will bear through you and the impact that will make for His Kingdom long after our season of "Going Viral for Jesus"!
Please feel free to contact either Shirley Shouse or Karen Wegner if you have questions.

The Gospel of John Reading Plan (3/16 – 4/18)
1. Read a Short Devotional Every Day from:
You Version Bible (HIStory: A Six Week Study of the Gospel of John) Access this one of two ways:
a. Download the

YouVersion Bible App

and search for the Reading Plan mentioned above
OR
b. Go to

Bible.com

on your computer and search for the Reading Plan.
2. Read a brief article or watch a short (8 minute) video Once a Week as follows:
a. Week of 3/16: View The Bible Project (John, Video 1)
https://www.youtube.com/watch?v=G-2e9mMf7E8 (John 1 – 12)
b.

Week of 3/23:

Read https://www.gotquestions.org/Gospel-of-John.html
c.

Week of 3/30:

View The Bible Project (John, Video 2,)
https://www.youtube.com/watch?v=RUfh_wOsauk (John 13 – 21)
d.

Week of 4/6:

Read https://www.gotquestions.org/seven-I-AM-statements.html