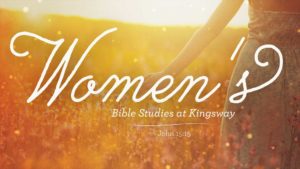 Women's ONLINE Bible Study
Beginning January 9, 2020 our Thursday Women's Bible Study Groups will
begin an 8-week study entitled Defined by Stephen and Alex Kendrick. Because we want to live
in the vibrant reality of who we are IN CHRIST, we must continually feed our souls with Truth. If
we do not, our culture gets to define us!
As Christians, we need to be walking in our identity in
Christ in every season, including winter. We will not be deterred by weather because this is an
Online Bible Study to be done weekly from our homes. This is designed to be user-friendly and
low cost.
For more details about the study and optional meeting times to explain how the
technology piece functions, please email Morgan Dooty at morgan.dooty@nechristian.edu or
Karen Wegner at kwegner7@mail.com.
Also check out this site for more information:
https://onlinestudy.smallgroup.com/v/DefinedOBS
Feel free to inquire first and then sign up after that. When you are ready to sign up, please do
so both online (at the 'Defined' website) and at the Welcome Center. Thank You.

Sign up BOTH online and at either Info Center and invite a friend.
Facilitator: Karen Wegner