KINGSWAY OMAHA
Kingsway Kids 10AM
— Kingsway Students 6PM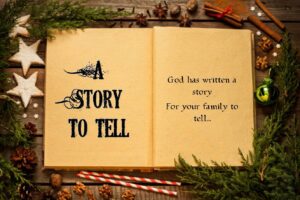 A Story To Tell
Before the world fell into chaos through sin, the Lord devised a remarkable plan to rescue His creation. When God created his rescue plan, He imprinted His purpose on ordinary people and called them to make a difference throughout significant portions of world history. God still places his plan of hope into a very human and fragile structure – the family. The family is God's plan to disciple generations to trust and follow Jesus. This Christmas, God wants to birth HOPE into your family so you can have a story to tell.
At Kingsway, WE LOVE KIDS. We teach the LOVE that JESUS has for them and sharing the HOPE of JESUS by learning Biblical truths, and building relationships through Small Groups.
We use Answers in Genesis curriculum and point parents to AIG for supplemental information. Click on the links below to see more about Kingsway Kids and AIG.
Kingsway's Student Ministry is dedicated to leading students to be connected and committed to Christ.
Join a Life Group today!
Kingsway LIFE Groups are a perfect place to grow and
connect with God's purpose for your life. Each group creates a safe
and enjoyable atmosphere to build friendships, ask questions, share
encouragement and study scripture. Groups are open to anyone in
any life situation, unless specifically noted.
We encourage you to check out one of our groups by clicking on the link below:
Everyone 50+, sign up to join us at the PEP Club Christmas party. The meal will be catered from Jericho's. The cost is $18 per person. Reservations are required. Bring a White Elephant gift to exchange (white elephant means something around your house you don't want anymore).
We hope to see you there!!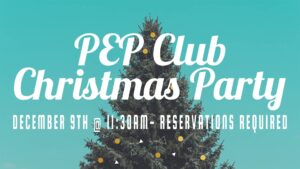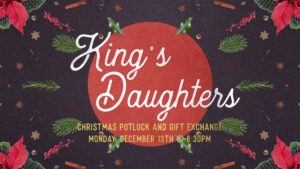 King's Daughters Christmas Party
Ladies! Grab a friend and come ready for fun! Christmas gift exchange items should be $10-$15 original value. Please bring food to share for the potluck and your appetite!"
Sign up at the info center if you plan to come!!
Join us for our Christmas Eve Candlelight Service at either 4:30 or 11PM.
Listen to Mary's story of hope that will settle your heart. A story of the child born to save. A story worth telling to your family.
Kids bags will be provided for kids 5th Grade and under.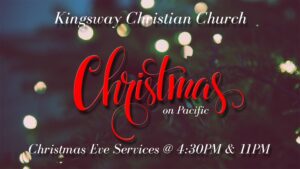 Kingsway
Christian Church
Email
Office@kingswayomaha.com
Questions & Prayer Requests
CONTACT US
Kingsway Christian Church
TEL:

402.333.2231

office@kingswayomaha.com
For More Info on Children's or Student Ministry: