Kingsway Kids on Facebook
Helping
kids
to know the hope found in a friendship with JESUS
through Bible teaching.
\
We offer a loving a nursery staff to care for your baby, aged 2-24 months. Our nursery is sanitized each week and we do not allow shoes to be worn in the room. All volunteers are required to wear booties in order to keep the floor as clean as possible. We strive to maintain a 1:1 teacher to baby ratio to provide the best care for your little one.
We also provide a private area for nursing moms that can be used throughout the Sunday morning service.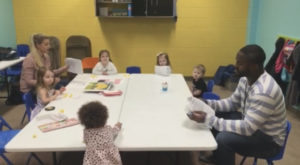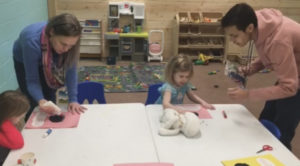 The Kingsway Kiddos Toddler and Pre-K department teaches that what we learn from the Bible will help us build lasting friendships with Jesus, and with other kids!
We are divided into two age groups –
Kingsway Kiddos lessons are made up of opening activities, story time, review, crafts and games.
All children must be checked out by an approved adult with the matching parent tag.
Kindergarten to 5th Grade
The Kingsway Kids Elementary department helps kids to know the hope found in a friendship with JESUS through Bible teaching. Lessons are designed to meet the kids where they are, and are geared toward their specific age groups.
Kingsway Kids is broken down into two groups-
Early Elementary – Kindergarten to 2nd Grade
Upper Elementary – 3rd Grade to 5th Grade
10:00-10:25
Family Worship in the Worship Center – kids released after Communion and Offering
10:25-11:15
Lesson, life application, memory verse, craft and game in classroom.