At Kingsway, WE LOVE KIDS. We teach the LOVE that JESUS has for them and sharing the HOPE of JESUS by learning Biblical truths, and building relationships through Small Groups.
We use Answers in Genesis curriculum and point parents to AIG for supplemental information. Click on the links below to see more about Kingsway Kids and AIG.
Kingsway's Student Ministry is dedicated to leading students to be connected and committed to Christ.
We are currently reading the New Testament using The Bible Recap through the YouVersion Bible App.
Join a Life Group today!
Meet online, in person, one on one.
We believe that true discipleship and relationships happen in small groups, where we can get to know each other on a personal basis, help each other through life's trials and struggles, celebrate the good times and joys in life, and ultimately, a loving and lasting relationship with Jesus.
We encourage you to check out one of our groups by clicking on the link below: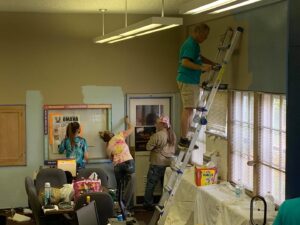 We exist to share the Hope of Jesus with the world, one person at a time.
We love our Trendwood Neighborhood and our desire is to serve the local neighbors, schools and businesses; to be a light in this area of Omaha. If you would like to get involved in outreach and serving others, click below for more information!