What's Happening at Kingsway
Check out the upcoming events below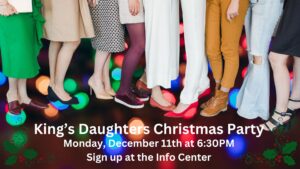 King's Daughters Christmas Party
Monday, December 11th at 6:30PM
Bring an appetizer or dessert to share.
Gift exchange! If you want to participate, you can bring a NEW gift with original value of $10-15.
Door Prizes will be awarded! Invite a friend.
The Journey to Christmas Musical and Soup Supper
Bring a crockpot of soup to share. Sign up at the Info Center!
Invite a friend or two and join us as we celebrate Christmas with our Kingsway family.
Featuring the Kingsway Choir, Orchestra and the Kingsway Kids and Students!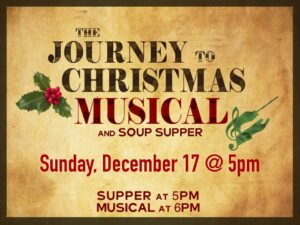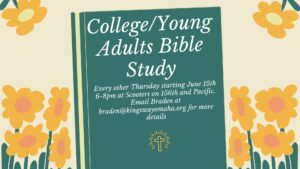 College/Young Adult Bible Study
Every other Thursday Evening
Scooters on 156th and Pacific
Join others as we take time to sing our favorite hymns, pray for each other, our country, and the persecuted church. Listen to a message from David Haynes, as well as enjoy special music from some of our favorites. This a great, once a month, mid-week service for us to come together, worship, pray and learn.
60 Minutes meets every second Thursday.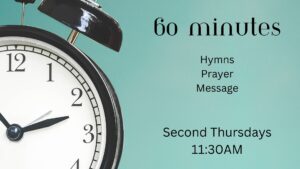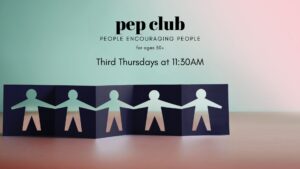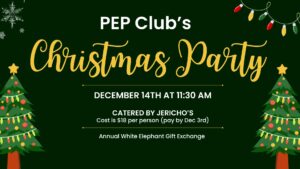 Those 50+, join us for fun, food and fellowship at PEP Club on the third Thursday of every month. Fellowship begins at 11:30 and the meal begins at 12. There is entertainment provided each meeting, and a chance to celebrate birthdays and anniversaries.
December is our annual Christmas Party and White Elephant Gift Exchange (this is something you find at home and wrap it up – don't buy new).
Dinner is catered by Jericho's and will be $18 each.
Please pay Carolyn Law by December 3rd.
Sign up at the Info Center, or call the church office at 402.333.2231
Kingsway women are invited to join us on Thursday mornings for a women's Bible study, using the book "Preparing to Meet Jesus" by Anne Graham Lotz & Rachel Ruth Lotz Wright.
Bea Trujillo will be leading.

Invite a friend. We hope to see you all there!